As hybrid cloud continues to gain prominence as an IT Infrastructure solution, providers of Managed Hybrid Cloud Hosting (MHCH) are becoming critical in helping companies run their workloads in a secure and dynamic environment. Hostway has been focused on providing enterprises with a wide variety of managed hosting, and managed cloud services and capabilities, with a special focus on MHCH. As a result, we were recently listed as one of the top MCHC vendors in the 2018 Gartner Market Guide for Managed Hybrid Cloud Hosting.
This listing is a result of Hostway's strong ability to provide:
Managed services for both public cloud and dedicated infrastructures
Secure cloud migrations
Mission-critical application management
Comprehensive hyperscale managed support
Location-sensitive data and application hosting
Putting Our Abilities to the Test
These capabilities allow us to efficiently design, build, and operate PCI-, FERPA-, and HIPAA-compliant infrastructures that can securely store highly-sensitive data for our global enterprise customers, including industry leaders like Samsung. Last year, the electronics giant asked Hostway to help secure their SmartTV application. Our team executed a customized approach that enabled Samsung to offer the first smart television app to be PCI compliant on a global scale. As the cloud market evolves, Hostway will continue to offer solutions like these that are built to meet the individualized needs of each customer, and we look forward to meeting Gartner's high standards in the process.
Bespin Global Follows Suit
In related news, our sister company in Korea, Bespin Global, which uses Hostway Data Centers, has just been listed on the Gartner Magic Quadrant for the second year in a row.  The report cites, "Bespin Global is a small hybrid MSP headquartered in South Korea. It was founded in 2015 as a spinoff of Hostway Korea. It offers hyperscale cloud managed and professional services, along with hybrid solutions, including colocation, dedicated servers and private cloud IaaS via Hostway's data centers."
Harness Our Expertise
To learn more about what makes Hostway a Gartner-recognized industry leader, or to receive a comprehensive consultation on your own cloud migration, hybrid cloud infrastructure, or mission-critical application management, contact a Hostway Expert today.
Customers benefit from high-end hybrid cloud solutions and migration services via Hostway data centers.

Gartner has published their 2018 Magic Quadrant for Public Cloud Infrastructure Managed Service Providers (MSP), Worldwide. For the second year in a row, Bespin Global, Hostway's sister company in Korea, has been listed as one of the leading MSPs. This designation is based on:
Hyperscaling capabilities
Ability to manage and operate a public cloud environment
Availability of a cloud management platform to monitor the public cloud environment and calculate cost
Cloud architecture design, migration, and DevOps automation capabilities
As the only country in East Asia to be listed, the report puts Bespin in impressive company with its larger competitors, especially those utilizing hyperscale data center infrastructure—a global market that is expected to be worth $98.2 billion by 2022.1 Further, it emphasizes Bespin's strength as a strategic and focused global MSP, capable of offering advanced managed and hybrid cloud solutions via Hostway data centers, including:
Migration
Architecture
Dedicated servers
Private cloud Iaas
Bespin started as an internal business unit of Hostway and became an independent entity in December 2015. In addition to that foundation, the company credits its proficiency and success to these key components:
Premier Partner Status with AWS and Azure
Expert management of multi-region deployments for their global customers
Cloud-native approach to solution architecture
In-house developed cloud management platform, available as stand-alone service
We sincerely congratulate our colleagues at Bespin on their hard-earned achievements and well-deserved recognition.
Hostway Also Recognized In 2018 Gartner Report
As hybrid cloud continues to influence IaaS, providers of managed hybrid cloud hosting (MHCH) are becoming critical in helping companies run their workloads in a secure and dynamic environment.
With this trend in mind, Hostway has been focused on providing enterprises with a wide variety of agile services and capabilities, including MHCH. As a result, we were recently listed as a representative MCHC vendor in the 2018 Gartner Market Guide for Managed Hybrid Cloud Hosting. This listing factors in our ability to provide:
Secure cloud migration
Mission-critical application management
Comprehensive hyperscale support
Location-sensitive data and application hosting
Maintaining Momentum
With 20 years of expertise, we are humbled to be included among other big industry players, and we look forward to innovating within the field to provide MHCH solutions that can change the way enterprises do business for the better.
Understand the Hype
To learn more about hyperscaling hybrid solutions, explore the 2018 Magic Quadrant report or contact us.

1. BCC Research, March 2018. Hyperscale Data Center Market to See 20.3% Annual Growth Through 2022
"For last year's words belong to last year's language and next year's words await another voice." 
T.S. Eliot
---
With only a few days remaining in 2017, I would like to take a moment to reflect and show my sincere appreciation and gratitude for everyone who has helped make 2017 a great year for Hostway, especially our customers, our partners, local communities, and the dedicated and talented Hostway team members worldwide. Our continued success is a result of all your dedication and hard work in our mission to provide secure and reliable cloud solutions to business enterprises across the globe.
Much of that success is evident in the accomplishments and growth seen in our organization during 2017. We've expanded our operations with new offices in San Antonio and Chicago, and we added our tenth international, world-class data center in Austin. We have added to our portfolio of products numerous security solutions, as well as Managed Support for the AWS Public Cloud, and VMWare. All this is so we may be able to continue to serve our thousands of business and enterprise customers around the world by delivering the best and most secure hosting and multi-cloud managed services.
Which brings me to the T.S. Eliot quote at the beginning of this message. 2017 was not without its faults and missteps. They will happen and we should not allow the possibility of failure to cloud our possibility of success. Last year has happened, so let those words, those actions, remain in the past. Next year's words, next year's actions, that is the new voice, and Hostway embraces that new voice and that onward path to continuing to serve customers and earn their trust in our every action so that we can really earn the title of "Trusted Cloud."
Let the new year bring new challenges, new friendships, and new success. We welcome them and we will continue to broaden our capacity to provide secure, state-of-the-art cloud solutions for our customers new and existing. If you're an existing customer, thank you again!  You are the reason we are here.  Always feel free to let us know how we're doing. If you are considering Hostway as a partner, please don't hesitate to contact us and let us know how we can help.
May this blessed holiday season, and the new 2018 year bring peace and prosperity to you and your loved ones!
Merry Christmas, and Happy New Year!


Hurricane Irma hit Florida on September 8, 2017, causing the largest evacuation in Florida's history. While hundreds of thousands fled, schools and public buildings closed, and even Walt Disney World shut down, some dedicated, brave Hostway'ers hunkered down in Hostway's Tampa-based data centers to take shelter from the storm and maintain customer's uptime holding true to the Hostway Customer Pledge.
Unprompted and unasked by anyone, these Floridians stayed in Tampa to keep customers' data secure, up and running, and to protect the data center facilities. While the Hostway staff was repeatedly advised to do what was best for their safety, they wanted to stay near the data centers to uphold our core values and customer pledge and keep their families safe. That's why those that stayed brought their families to the offices adjacent to our data centers in Tampa, as it was far safer and offered protection from the elements.

Why They Stayed
Hostway has a trusted pledge—keep customers first in everything we do. The employees of the Tampa data center clearly take that promise very seriously.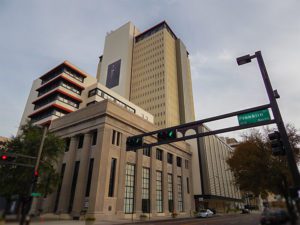 With Hurricane Irma's threat lingering, staff decided they'd protect both the customer's we serve and their families by being inside the facility to work while their families lived out the winds, rain, and dangerous weather in the ruggedized Hostway offices.
One of the brave employees that stayed on campus is Charles Charmatz, Senior Director, Network and Datacenter. "Being prepared was our top priority," Charmatz said. "Additional fuel and fuel tanks were brought in, food and water, adjacent offices and conference rooms were used for our family. The data center was the safest place to be for our customers and our families."
Deciding to stay was the right thing to do not only for their safety but for another Hostway Customer Pledge—providing peace of mind. That includes 100% uptime guarantee per our trusted infrastructure. That promise was forefront in making sure power, connectivity, and security were top priorities, regardless of weather conditions.
Working Together Through Irma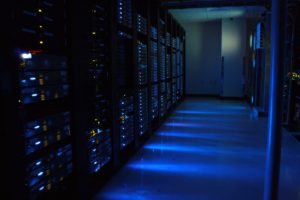 The Tampa team prioritized and put customer communication at the top of the list. They utilized several communication tools besides phone and email that allowed customers to contact or get updates in real-time. Hostway's support team posted on their respective Twitter handle @HostwayNOC, on their dedicated Service Notifications web page, and sent multiple forms of communication before, during, and after the storm.
"Working as a team in the data center allowed us continuous communication with customers, the rest of Hostway, and each other," Charmatz said.
Preparedness worked and Hostway employees, their families, and Hostway customers based in the Tampa data center stood strong against Irma.
Thank you to all those who remained, worked hard as a team, and withstood Irma. You definitely showed why we follow another part of our Hostway Customer Pledge—investing in world-class people. Your contribution and dedication are felt throughout the Hostway organization and our customers.
As you consider business continuity and disaster recovery planning for your organization, Hostway has the team that fulfills the promises that keep your business up and running.  Check out our comprehensive infrastructure protection and optimization platform today.  You can also call +1.866.680.7556 or chat with us 24x7x365.
Emil Sayegh, our CEO, spoke at the NexGen Cloud Conference and Expo telling the audience, "It's not all about cloud."
That's a catchy quote, for sure, but there is a whole lot more meaning behind it, which is based on our experience working with customers. Emil was also quoted as saying, "I cannot describe to you how many companies come to us and say, 'We are overspending with AWS, overspending with Azure."

Hybrid cloud is a construct that solves a lot of problems and eliminates a lot of risks associated with the traditional cloud.
Emil says that hybrid infrastructure connecting clouds with on-premises networks, for most customers, is the right solution. Some workloads are great sitting in the cloud. Others, often those with predictable loads, like databases, typically achieve greater cost efficiencies on dedicated gear.
Read this CRN article for a full report on Emil's remarks at NexGen.
IT organizations often leverage Managed Service Providers (MSPs) to maximize return on scarce resources – doing more with less. In the case of cloud hosting, by outsourcing activities ranging from day-to-day infrastructure support to cloud migrations and application-level support, organizations effectively have a dedicated team of IT professionals looking out for their best interest at all times, without the headcount burden.
A 2015 CompTIA study found that nearly two-thirds of organizations used the services of an outsourced IT company during the previous 12 months. In addition, the market for managed services continues to expand, with MarketsandMarkets predicting it will be worth 242.45 Billion USD by 2021. This is an important indicator that businesses are finding managed services – and cloud hosting services in general – to be worth the investment.
Let's take a look at some key benefits of partnering with a cloud hosting provider that offers managed services and support, like Hostway:
1. Increase Productivity
Increased productivity is one of the main reasons for investing in managed services. By handling your cloud operations and managing your infrastructure, providers can give time back to your IT department – time that staff can spend working on innovative and higher return projects for your business.
The productivity benefits go deeper than that, too. What happens when one of your employees leaves your organization or goes on vacation for an extended period of time? With the traditional business model, you may have to hire and train a new employee, and it can take a while to get the individual up to speed. With a managed service provider, however, the expertise is always there, only a phone call away.
"A MSP not only has the resources and ability to find the right people and keep them abreast of industry trends, it has built-in bench strength ready to plug in as needed," said Paul Tuttle, a senior technology consultant at Warwick Communications, in an interview with Smart Business. "You don't have to worry about what happens when your IT person goes on vacation, has a sick day or finds a better paying job."
2. Reduce Downtime
One particular way organizations can save money is by strengthening event detection and response strategies by incorporating managed service and support into their overall IT strategy.
One of the biggest negative contributors to a company's bottom line is the cost that comes with unplanned outages. Even a small amount of downtime can have a significant impact on the business – Gartner VP of Research Andrew Lerner noted in 2014 that the average cost per minute for downtime is somewhere around $5,600. Managed support teams can help cut losses sustained during an event such as this by leveraging business continuity services to quickly find and rectify the problem within your network.
3. Fuel Innovation
Carolyn April, senior director of industry analysis at CompTIA, noted that partnering with an MSP can bring a much-needed, fresh perspective to any organization's IT strategy. In freeing up existing staff to work on other projects, companies can harness their employees' creative energy for more than just operations management. Cloud hosting providers offer managed support and services for infrastructure as well as applications in some cases, effectively assuming responsibility for all day-to-day operational activities associated with ensuring the entire solution operates smoothly.
"It elevates the IT staff and brings them out of the shadows within the organization," April said. "It allows them to focus on a custom app dev project or cloud initiative – something highly strategic. I think that's a win-win for your IT staff."
4. Ensure Successful Cloud Migrations
No matter what vertical your company operates within, you've probably heard about the benefits of migrating applications and data to the cloud. According to Statista, spending on public cloud Infrastructure-as-a-Service hardware and software will grow to $173 billion in 2026, up from $38 billion in 2016. This is a clear indication that cloud application adoption – be it private, public or a hybrid cloud – is ticking upward, and companies that haven't gotten on board yet with the cloud are going to be left behind.
That being said, migrating to the cloud can be a daunting task if you take it on yourself. This is where an experienced cloud hosting provider, offering a managed IT assessment and migration service, can be hugely beneficial. A highly specialized skillset is required to identify and prioritize applications that can be moved to the cloud, uncover risks and dependencies, refactor applications and ultimately manage the migration. Don't try to do it alone. Hire a professional.
5. Manage your Applications
In some cases, cloud hosting providers offer managed service and support all the way through the application layer. For example, with managed Magento support from Hostway, retailers can rest easy knowing that the entire Magento environment is monitored by Magento-Certified Solutions specialists around the clock. Hostway's accountability-as-a-service model provides ongoing support beyond the basic configuration and installation of the Magento software – covering things like proactive troubleshooting, patching and monitoring.
You can achieve these benefits and more by partnering with a reputable cloud hosting provider, such as Hostway.
For more information about how managed support can make a difference in your organization, check out our white paper >>>


Although the term "cloud" is seeing increasing use, it's necessary to clarify what portion of "the cloud" is of interest to a particular audience. For small and medium businesses (SMBs), there are generally two areas of relevance in the evolution of IT services to the cloud. The first is the application layer, commonly referred to as Software as a Service (SaaS). The second is the infrastructure layer, known as Infrastructure as a Service (IaaS). (more…)
According to Gartner analysis, $150 billion in cloud-related revenues is expected by 2013. The move of company data towards "the cloud" is not slowing, and more companies are wrestling with the "is the cloud secure?" question. (more…)
By Meredith Barnhill
For small companies, hosting a Web site on a local server can be a huge expense to set up and maintain. Most companies choose to host their site on a shared hosting plan instead. Recently, a small number of Web hosts have moved their shared Web hosting plans to a cloud computing infrastructure to better manage data flowing to and from the servers where these companies' Web sites live. (more…)
By Robert W. McDonald
Small business owners should always be on the lookout for anything that can reduce their operating costs and/or makes them more competitive. That's why the "supersmalls," companies with no more than five employees, including the owner, should take a close look at Cloud Computing. (more…)