Hurricane Irma hit Florida on September 8, 2017, causing the largest evacuation in Florida's history. While hundreds of thousands fled, schools and public buildings closed, and even Walt Disney World shut down, some dedicated, brave Hostway'ers hunkered down in Hostway's Tampa-based data centers to take shelter from the storm and maintain customer's uptime holding true to the Hostway Customer Pledge.
Unprompted and unasked by anyone, these Floridians stayed in Tampa to keep customers' data secure, up and running, and to protect the data center facilities. While the Hostway staff was repeatedly advised to do what was best for their safety, they wanted to stay near the data centers to uphold our core values and customer pledge and keep their families safe. That's why those that stayed brought their families to the offices adjacent to our data centers in Tampa, as it was far safer and offered protection from the elements.

Why They Stayed
Hostway has a trusted pledge—keep customers first in everything we do. The employees of the Tampa data center clearly take that promise very seriously.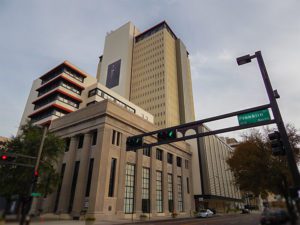 With Hurricane Irma's threat lingering, staff decided they'd protect both the customer's we serve and their families by being inside the facility to work while their families lived out the winds, rain, and dangerous weather in the ruggedized Hostway offices.
One of the brave employees that stayed on campus is Charles Charmatz, Senior Director, Network and Datacenter. "Being prepared was our top priority," Charmatz said. "Additional fuel and fuel tanks were brought in, food and water, adjacent offices and conference rooms were used for our family. The data center was the safest place to be for our customers and our families."
Deciding to stay was the right thing to do not only for their safety but for another Hostway Customer Pledge—providing peace of mind. That includes 100% uptime guarantee per our trusted infrastructure. That promise was forefront in making sure power, connectivity, and security were top priorities, regardless of weather conditions.
Working Together Through Irma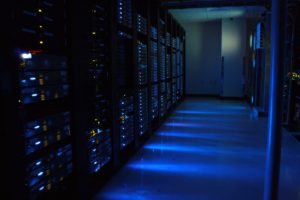 The Tampa team prioritized and put customer communication at the top of the list. They utilized several communication tools besides phone and email that allowed customers to contact or get updates in real-time. Hostway's support team posted on their respective Twitter handle @HostwayNOC, on their dedicated Service Notifications web page, and sent multiple forms of communication before, during, and after the storm.
"Working as a team in the data center allowed us continuous communication with customers, the rest of Hostway, and each other," Charmatz said.
Preparedness worked and Hostway employees, their families, and Hostway customers based in the Tampa data center stood strong against Irma.
Thank you to all those who remained, worked hard as a team, and withstood Irma. You definitely showed why we follow another part of our Hostway Customer Pledge—investing in world-class people. Your contribution and dedication are felt throughout the Hostway organization and our customers.
As you consider business continuity and disaster recovery planning for your organization, Hostway has the team that fulfills the promises that keep your business up and running.  Check out our comprehensive infrastructure protection and optimization platform today.  You can also call +1.866.680.7556 or chat with us 24x7x365.
IT organizations often leverage Managed Service Providers (MSPs) to maximize return on scarce resources – doing more with less. In the case of cloud hosting, by outsourcing activities ranging from day-to-day infrastructure support to cloud migrations and application-level support, organizations effectively have a dedicated team of IT professionals looking out for their best interest at all times, without the headcount burden.
A 2015 CompTIA study found that nearly two-thirds of organizations used the services of an outsourced IT company during the previous 12 months. In addition, the market for managed services continues to expand, with MarketsandMarkets predicting it will be worth 242.45 Billion USD by 2021. This is an important indicator that businesses are finding managed services – and cloud hosting services in general – to be worth the investment.
Let's take a look at some key benefits of partnering with a cloud hosting provider that offers managed services and support, like Hostway:
1. Increase Productivity
Increased productivity is one of the main reasons for investing in managed services. By handling your cloud operations and managing your infrastructure, providers can give time back to your IT department – time that staff can spend working on innovative and higher return projects for your business.
The productivity benefits go deeper than that, too. What happens when one of your employees leaves your organization or goes on vacation for an extended period of time? With the traditional business model, you may have to hire and train a new employee, and it can take a while to get the individual up to speed. With a managed service provider, however, the expertise is always there, only a phone call away.
"A MSP not only has the resources and ability to find the right people and keep them abreast of industry trends, it has built-in bench strength ready to plug in as needed," said Paul Tuttle, a senior technology consultant at Warwick Communications, in an interview with Smart Business. "You don't have to worry about what happens when your IT person goes on vacation, has a sick day or finds a better paying job."
2. Reduce Downtime
One particular way organizations can save money is by strengthening event detection and response strategies by incorporating managed service and support into their overall IT strategy.
One of the biggest negative contributors to a company's bottom line is the cost that comes with unplanned outages. Even a small amount of downtime can have a significant impact on the business – Gartner VP of Research Andrew Lerner noted in 2014 that the average cost per minute for downtime is somewhere around $5,600. Managed support teams can help cut losses sustained during an event such as this by leveraging business continuity services to quickly find and rectify the problem within your network.
3. Fuel Innovation
Carolyn April, senior director of industry analysis at CompTIA, noted that partnering with an MSP can bring a much-needed, fresh perspective to any organization's IT strategy. In freeing up existing staff to work on other projects, companies can harness their employees' creative energy for more than just operations management. Cloud hosting providers offer managed support and services for infrastructure as well as applications in some cases, effectively assuming responsibility for all day-to-day operational activities associated with ensuring the entire solution operates smoothly.
"It elevates the IT staff and brings them out of the shadows within the organization," April said. "It allows them to focus on a custom app dev project or cloud initiative – something highly strategic. I think that's a win-win for your IT staff."
4. Ensure Successful Cloud Migrations
No matter what vertical your company operates within, you've probably heard about the benefits of migrating applications and data to the cloud. According to Statista, spending on public cloud Infrastructure-as-a-Service hardware and software will grow to $173 billion in 2026, up from $38 billion in 2016. This is a clear indication that cloud application adoption – be it private, public or a hybrid cloud – is ticking upward, and companies that haven't gotten on board yet with the cloud are going to be left behind.
That being said, migrating to the cloud can be a daunting task if you take it on yourself. This is where an experienced cloud hosting provider, offering a managed IT assessment and migration service, can be hugely beneficial. A highly specialized skillset is required to identify and prioritize applications that can be moved to the cloud, uncover risks and dependencies, refactor applications and ultimately manage the migration. Don't try to do it alone. Hire a professional.
5. Manage your Applications
In some cases, cloud hosting providers offer managed service and support all the way through the application layer. For example, with managed Magento support from Hostway, retailers can rest easy knowing that the entire Magento environment is monitored by Magento-Certified Solutions specialists around the clock. Hostway's accountability-as-a-service model provides ongoing support beyond the basic configuration and installation of the Magento software – covering things like proactive troubleshooting, patching and monitoring.
You can achieve these benefits and more by partnering with a reputable cloud hosting provider, such as Hostway.
For more information about how managed support can make a difference in your organization, check out our white paper >>>