Hostway is pleased to announce being officially selected as one of the winners in the Canada's Top Small & Medium Employer category for 2019! Hostway is proud to add the selection as one of Canada's Top Small & Medium Employer to the other awards already achieved this year.
The Canada's Top 100 Employers project is a national competition to determine which employers lead their industries in offering exceptional workplaces for their employees. It recognizes small and medium-sized employers across Canada that excel in various categories, such as benefits, culture, recognition, diversity, business milestones, and other aspects, that make a business outstanding to work for. Winning organizations are showcased in an annual magazine special, published this year in The Globe and Mail on April 12, 2019.
Applicants for the award were evaluated by editors of Canada's Top Small & Medium Employers using the same eight criteria as Canada's Top 100 Employers competition:
Physical Workplace
Work Atmosphere & Social
Health, Financial & Family Benefits
Vacation & Time Off
Employee Communications
Performance Management
Training & Skills Development
Community Involvement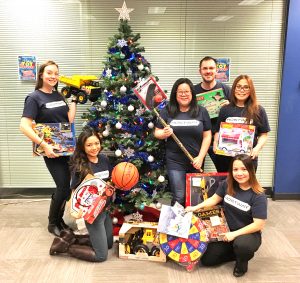 Senior HR Generalist Yui Nonoyama says that Hostway initiatives highlighted as part of the winning submission include Fun Fridays, where employees compete with themed costumes and workspace decorations; quarterly Hostie Awards and milestones recognitions; training and development, such as AWS certification training and bonus programs; and community service initiatives, like blood drives and annual toy drives. Team members can also find ways to reenergize with the onsite, multipurpose Zen room, an employee lounge with games, weekly team lunches, and access to a fully equipped, shared-use fitness facility.
Meeting the standards necessary to be recognized is familiar to the Hostway team, both in offices today and from past competitions. Hostway (pre-merger) was recognized in the Small & Medium Employer category in 2017 and is proud to be honored for a second time. HOSTING has also previously been honored pre-merger as one of the Top 50 Best Medium-Sized Best Places to Work in the 6th Annual Glassdoor Employees' Choice Awards.
With all the achievements made over the last few years, the Hostway HR team felt amply prepared to apply to a Canada's Top Small & Medium Employer award.
"We are constantly striving to improve our work culture and enable our people to be their best," said Natasha Gordon, Senior Director of Human Resources for Hostway. "We focus on creating a collaborative environment that fosters innovation and growth. This award is a reflection of the great people we have working for Hostway across all locations that make up the industry's best team."
Ready to join an award-winning team? Hostway offices in Canada and across the world are always looking to talented people just like you! Check out our current job listings, which are updated daily.