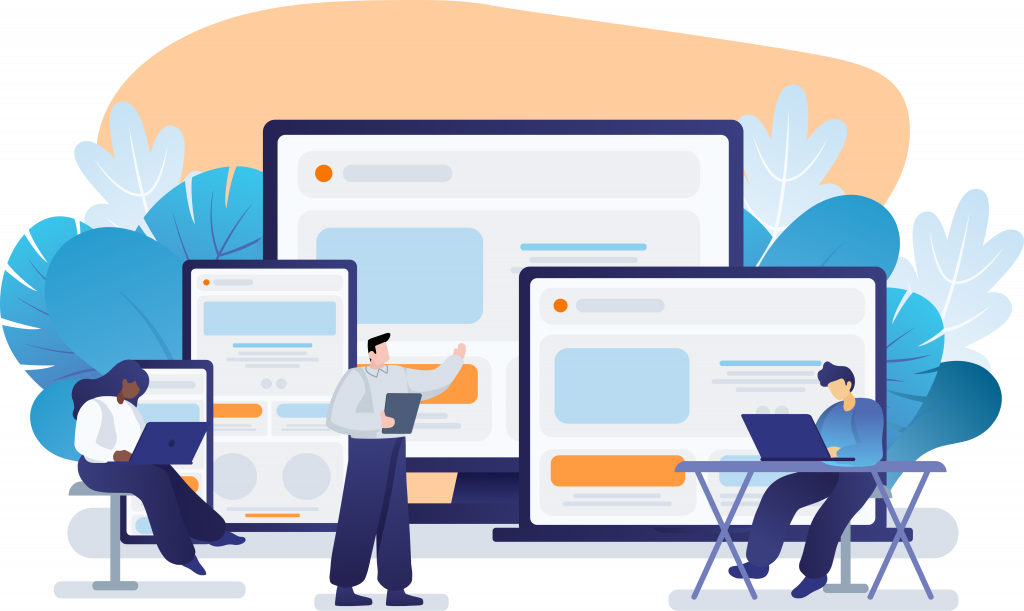 A Post-COVID World: Are You Ready?

Let's not kid ourselves. We're two decades into the 21st century, people were already online before Covid.

What changed was the sheer volume and intensity of online traffic during the pandemic – if online activity was a "10" on a scale of 1 to 10 at the beginning of 2020, the pandemic jacked it up to something like a "15."
The numbers don't lie:
Out of all the data we sifted through, by far our favorite data point was this one, courtesy of GlobalWebIndex:
39% of U.S. consumers said they are more likely to buy from local or independent brands after the pandemic. (GlobalWebIndex)
A Modern Website Matters in 2021 and Beyond

What's it all mean? It means with the pandemic's end on the horizon, there's likely never been a more important time in the history of online for your business to upgrade its website.

If you're thinking a website refresh could be on the horizon, make sure it has these 4 essential features:

1) A Modern Look

The 1990s had a lot of great things – Michael Jordan, Seinfeld, Friends, The Titanic, and Super Nintendo – what it's not known for is its website design.

If your website looks like a time capsule from the 1990s (think overt use of bevels, hit counters, vertical menu bars, too much text, flash animations, and awkward background patterns) – it could mean you're due for a refreshed look.

Simply put, what you're able to achieve through design in 2021 is quantum leaps ahead of where we were in the 1990s. It's akin to the leap from the light bulb's invention in 1879 to putting a man on the moon less than a century later. Quantum. Leaps.
Just look at how the world's most famous brands have evolved since the 1990s:
Dell (1996)

Dell (2020)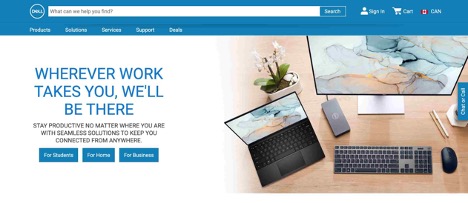 Microsoft (1996)


Microsoft (2020)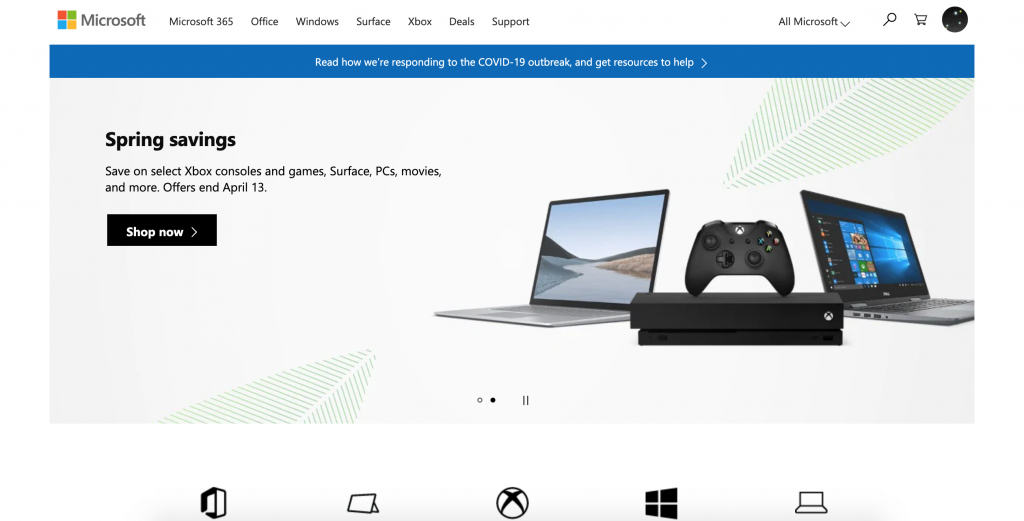 Adobe (1996)


Adobe (2020)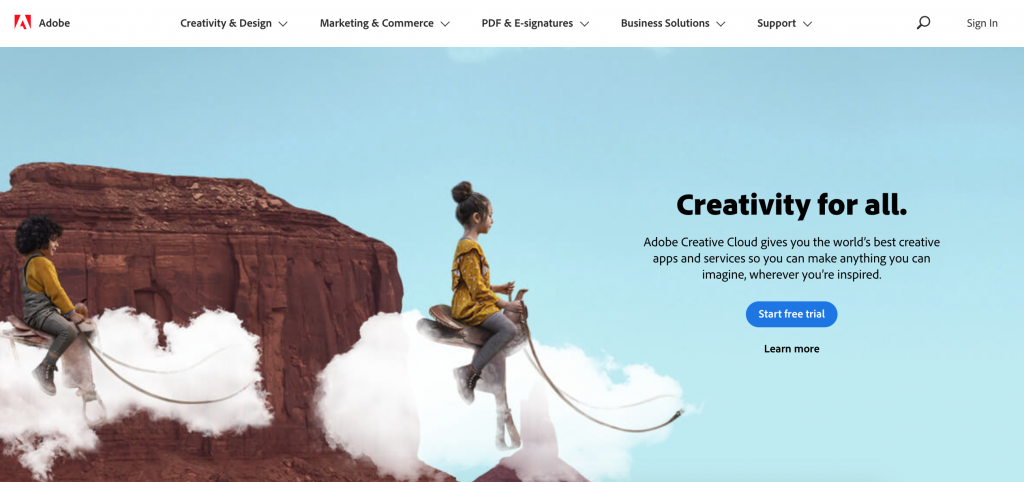 2) Mobile Design

As of 2021, 55.565% of all web traffic comes from mobile – compared to 6.09% in 2011, according to StatCounter.com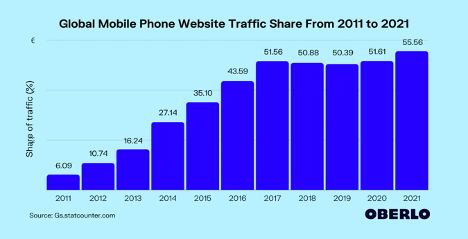 In 2021, ensuring your website is mobile optimized isn't simply a "nice-to-have" but more of a Darwinian requirement.
Think about it. In what other areas of your business would you willfully choose to present your business in a manner that inhibits 55% of all viewers from being able to engage effectively with your organization?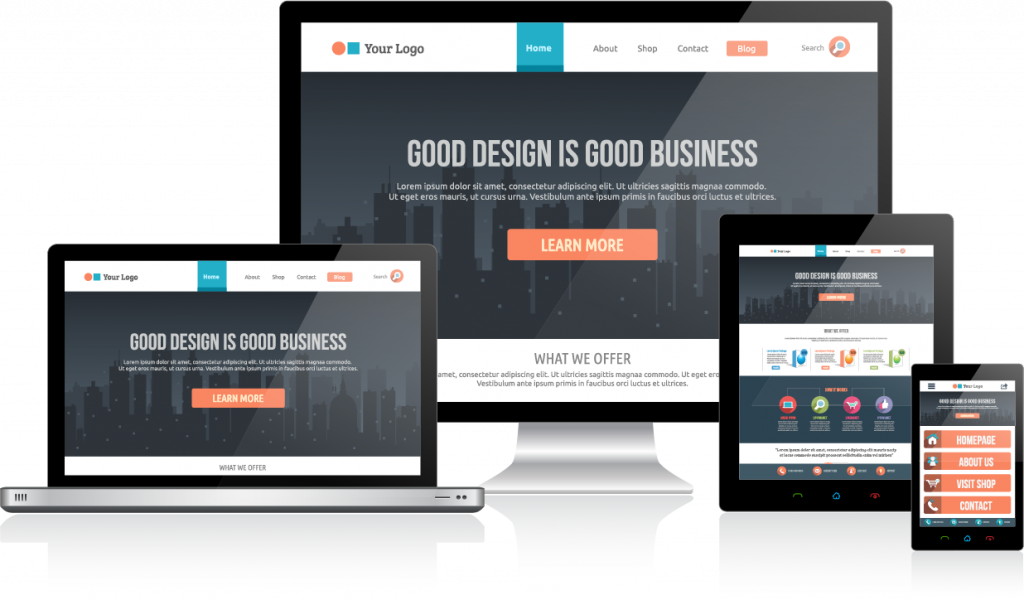 3)   Easy to Edit

Long gone are the days of inflexible content edits and requiring a developer to make every little change request on your site.

Today's popular website management tools, like WordPress, make refining, deleting, and adding onto your website a breeze – without requiring the services of a developer or agency.
In 2021, you should easily be able to do any of these activities without the help of an agency:
Adding a new blog section
Publishing new blog posts
Creating new pages
Editing your menu navigation
Creating a contact form
If you can't easily execute any of these activities yourself in 2021, then it's a clear tell-tale sign you're in need of a new website.


4) Lead Conversion Tools

A key evolution in website design over the past few years has been the emergence of lead conversion centric design principles - especially for service-oriented businesses that live on leads, like roofing companies or plumbers.

What defines a lead? A lead is basically anyone who expresses any interest in your product or service – whether they're bursting at the seams ready to make a purchase, or have a passing interest.

The key is knowing who your leads are and capturing their contact information - so that you can then follow up with them and drive home a sale.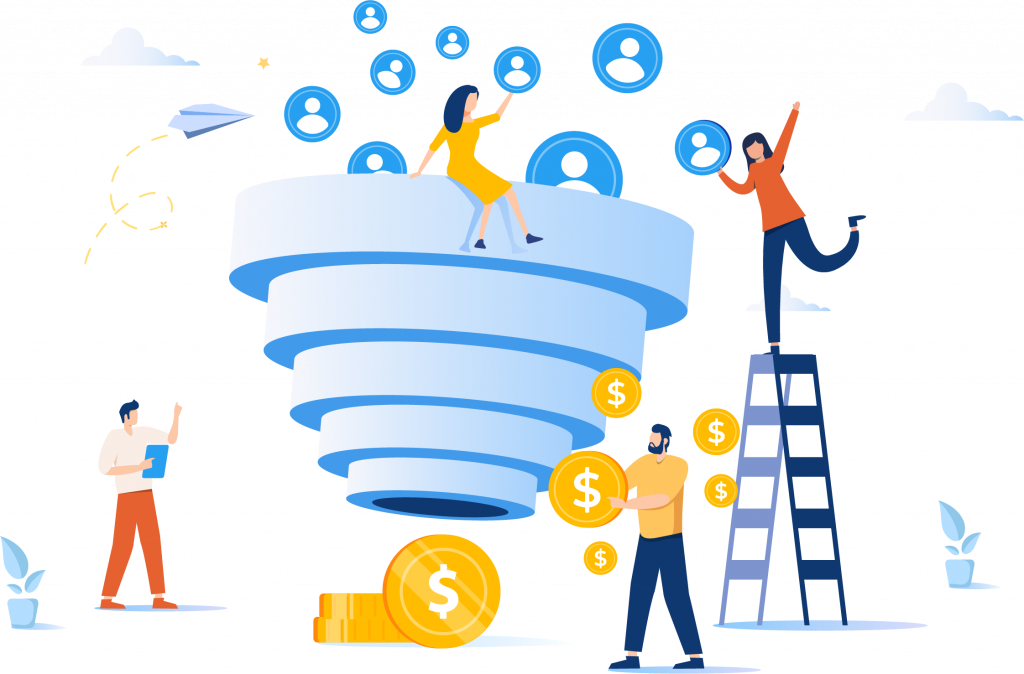 Critical conversion focused features all lead-centric websites should have, include:
Sticky Call-to-Action Bars
Prominent Call-to-Action buttons
Contact Forms
Landing Pages
Newsletter Sign Ups
While not customer facing and more of a backend feature, all lead-centric websites should have Google Analytics hooked to your site - providing you with an intuitive dashboard to track what visitors are doing once they land on your page.
Leveraging Hostway for a New Website
Fair or not, we live in a world where a website is the first impression most customers have of a business.
Fear not if you feel your website doesn't give the greatest first impression - we're here to help.
Hostway now offers Website Design Services. With this service, you can now get a professional, modern, and elegant website for your business – all created for you.

Visit our Website Design Services page and schedule a free consultation with us to see if our website design service makes sense for you.
---

Need a New Website? We Can Help.
Change is a constant force in nature and a natural law of the universe. The world of web design is no different. 
As tech evolves and the impossible becomes "possible," the standard of what constitutes "good" web design evolves.

Giving your website a refresh to match with modern standards is not a matter of preference, but rather, a must-have (if you hope to keep up with competitors and meet consumers' expectations).

Just think about your favorite restaurant - there's a really good chance its interior looked a whole lot different in the year 2011, and an almost certainty it looked extremely different in 2001. Times change and consumers' expectations evolve - it's no different online.
Today we're going to look at a few different design qualities all modern websites should have. Look through these and ask yourself if your website has these or if it falls a little short.
A Modern Design
Today's consumers' interact with apps like Facebook, Amazon, and Netflix all-the-time, almost 24/7. Consumers' are trained to expect, and demand, a simple, intuitive design interface that makes navigation easy.

If your website is out-of-touch, hard to navigate, and out-of-date, consumers will notice and look elsewhere. Web users (especially millennials and younger) are savvy and quick to recognize and harshly critique dated online presences. 
Mobile Optimized
Many users regularly or exclusively use smart phones to get online. This means your website must be mobile-friendly and responsive.
What's more, Google heavily favors websites that are mobile web optimized in its search rankings and penalizes websites that aren't.  
A Simple, Clutter-Free Interface
Less is more in 2021. 
Minimalistic designs showcase information where users can find it - delivering a far better user experience than cluttered interfaces with distracting elements.
This means it may be time to consider retiring those shadows, reflections, 3D renderings and other elements that defined websites of yesteryear.
Websites shouldn't complicate things and leave your visitors thinking if they should contact your business at all. 
Rapid Loading Time
This one's simple enough - long load times are a bad thing. You don't like it, your site visitors don't like it, and search engines don't like it either (Google penalizes slow-loading sites).
A lot of load time issues are due to dated site design principles baked into old websites. 

In  a world where instant-gratification is everywhere, a slow website is an instant turnoff.
Leveraging Hostway for a New Website
We live in a world where a website is the first impression most customers have of a business. Whether it's fair or not, first impressions matter.

Fear not if you're feeling that your website may need a refresh. We're here to help.
Hostway now offers Website Design Services. With this service, you can now get a professional, modern, and elegant website for your business - all created for you.

Visit our Website Design Services page and schedule a free consultation with us to see if our design service makes sense for you.
A Web Revolution - Site Design Trends in 2021
The basics never grow old. Things like Levi's Jeans, a classic watch, or a leather jacket - you can always count on them to fit right into the times.
The same can't be said for website design. When it comes to online, new tools, technologies, and customer expectations are constantly transforming what constitutes "good design."
As we look forward to the rest of 2021, we fully expect this definition to evolve as new technologies and best practices emerge.
An Immersive Web
First, let's talk about web users. We're at a moment in time where the user experience is defined by an amazing set of circumstances.
A Remote Workforce - Due to the COVID pandemic, most of the U.S. white collar workforce is now working from home.
Mobile More Than Ever Before - According to consumer research center Statista, total global smartphone users will be at 3.8 billion users by the end of 2021.
The Arrival of 5G - Super-fast 5G technology arrived in 2020 and is expected to takeover completely in 2021.
These factors indicate we're suddenly at an era of immersive web experiences - we must build with this destiny in mind.
Look for these trends to drive web design in 2021.
2021 Web Design Trends to Expect
Mobile First
The days of sitting at a computer, wandering around the web, and discovering things are coming to an end.
Most people are reaching for their phones first. Looking at the phone is the first thing many people do each morning, the first thing students do when they leave class, and the first thing employees do when they arrive at work. People are on their phones all day and night long.
In addition, billions of searches each day occur on mobile devices and in result, major search engines are now ranking sites with mobile experiences higher than those that do not.
Minimal Design
The increase in mobile traffic impacts users' attention spans.
This means, websites need to deliver their call-to-actions fast (whether that be to sign-up, make a purchase, subscribe, find out more, or to book an appointment).

There's no better way to get your point across fast than with a simple, clean, minimalistic design.
More Story-Telling
Driving customers to take action on your page is a challenge. While, yes, a minimal design helps, there has to be room for authenticity, story-telling, and the communication of valuable, unique selling points.
Achieving this, while keeping users' attention, is a challenge, and can be supplemented with engaging story-telling devices like short videos, social media posts, and animations.
The Need for Speed
Website speed is more important than ever.

You don't want visitors to leave because they were forced to wait too long. Having fast web hosting is important, but site design is a huge piece. Great web design allows for pages to render and stabilize quickly, smooth page loading, and rapid response time to user interactions.
One-Page Designs
It may not be for everyone, but for some industries, the one-page design is becoming more and more in-vogue. Essentially it places all of the traditional structured pages, like "Contact," "About," and "Services," and so forth, on one page, in a concise, intuitive, user-driven experience.
In many cases, this type of design creates is more engaging and more mobile friendly.
Take It and Run - Web Design with Hostway
Design trends evolve over time, but this latest wave of technology is a significant leap that should drive you toward getting a new site. One of the most flexible and easiest ways to do this is for us to do it for you!
Hostway's Website Design Service can create a custom WordPress-based site geared toward your needs, integrating all of the above best practices described above.
If you're interest in the service, just reach out to us by completing the form on the Website Design page. We'll get in touch with you and talk through if this service can be a fit for you.
Your website is an opportunity to connect to the public, potential partners, prospective clients, and essentially the entire world.
This is a place where you want to tell your story and engage with individuals in a way that leads them to a desired result, whether that be a call,  purchase, consultation, or a download.
Your website answers the "this is who we are, this is what we do, and this is what I want you to do" questions.
It's your story.

Words are powerful, but when it comes to websites, design is a significant component. A busy, cluttered site can send out a mixed message or bury a message altogether.
A clear, purposeful site does a better job, but there is a limit. A site that goes too far with simplicity and white space can create an underwhelming message or lose visitors' focus. 
There's obviously a lot to think about. Let's take a look at some of the most critical web design components and what they have to say to a visitor. 
1) Load performance – When a user visits a website, you have precious little time to engage with them - nobody likes to wait around. Load-oriented design means that components are designed to load quickly, paying respect to size, positioning, and technical composition. 
2) White space – It is difficult to avoid the impulse to fill space. However, white space on a page enables the page, through design, to guide the visitor to what is most important on your page. It might be a capture dialog, it might be a product, it might be a phone number - whatever it is that you want to highlight can only benefit from a proper amount of room around it. 
3) Line space and padding – Reading should be easy and without proper spacing, users can easily get lost in crowded spaces. With padding, attention is paid to the proximity between text and other elements of the page - page components should flow together, without conflict or distractions.
4) Mobile experience – Mobile design is a must-have. Every day, all day, visitors surf and engage on their phones - they demand websites to look good on mobile. Responsive page design allows for a variety of device sizes to present pages in an optimized design style.
5) Symmetry – Symmetry of page components is pleasing to the eye and keeps readers engaged with your message and brand. 
6) Colors – Getting the fundamentals of color consistency, contrast, and color selection correct make all the difference you need to stand out and appeal to visitors.
7) Design components – Use and don't overuse design components. Text boxes, graphical cues, radio buttons, and many components can help create your business story effectively. It's easy to get carried away however, meaning it's possible to clutter up pages with too many components. 
Note that regardless of what platform your site is running on – custom code, WordPress, and beyond, you're going to need to do some design planning. Anything short of that, or off the shelf, can result in an ineffective effort, loss of SEO, and most significantly, a lost opportunity to evoke the message you want to share with visitors. 
It's a competitive online world and you need a professional, attractive design that is developed through a proper, purpose-driven design process.
The finished result of a great design process should look unforced, is easy to navigate, performs well, and shares the message you want to share effectively. 
---
At Hostway, we'll design for your business a brand new modern, professional, beautiful, and responsive website with all the features you need to attract and convert visitors into customers.

Interested? Learn more about our Website Design Services. 
With so many options out there, the question comes up all the time –  should I have professionals design a website for me?
Here's reasons why a website design service may be the best choice for your business.
A Powerful Marketing Tool
A unique, modern, fresh website design is the best marketing tool you have - communicating to prospects what your business stands for.

SEO wise, when it comes to competing for Google listing real estate, custom designed sites are usually built with streamlined code and SEO best practices in mind. 
Better Engagement
Your business and professional profile are unique, so why would you want a site that isn't? Standard, run of the mill sites are boring and don't grab your attention and engage your visual senses.

When the difference between two competing businesses (in the eyes of prospects) comes down only to only how attractive their websites look - which is often the case - design makes all the difference in the world.
Comfort and Trust
In the minds of potential customers and business partners, the design of a website is a critical. When a site is appealing and easy to use, people notice and place more trust in your business. Customers that trust you are more willing to provide you with their information and make a purchase. 
A beautiful websites that stands out from the crowd can truly communicate your message in a way that standard websites can't. Competition is fierce and every impression of your business counts. 
Tremendous Support
Working with an experienced team of website developers is well worth the cost, providing personalized and tailored services to fit your needs.

The process usually begins with an informational gathering Q&A session with whoever's going to build your site. This allows your website designer to get to know your business and understand what your website requires. 
From there, your web design team will take your requirements and develop your website. 
Designed with Purpose
A website is an extension of your business and is usually the first thing a prospect sees about your business. If you're not a designer yourself, the only way to truly build a website that stands out from the crowd is with the help of a custom website design service.
---

At Hostway, we'll design for your business a brand new modern, professional, beautiful, and responsive website with all the features you need to attract and convert visitors into customers.

Interested? Learn more about our Website Design Services.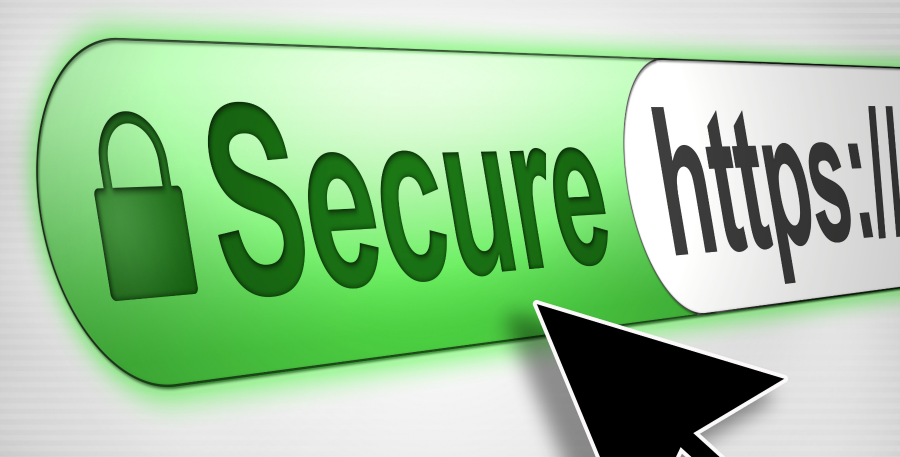 Does your website display as "Not Secure" within users' address bars? If so, it's likely your customers are turning away from your website in the masses before ever even engaging with your site.
In 2018, Google Chrome (the most popular web browser in the world) began flagging all websites without an SSL certificate as "Not Secure" in ominous red text, warning users to proceed with caution.
Since this change, users are avoiding sites without an SSL certificate like the plague, worried their data and information will be hacked.
What is an SSL certificate?
An SSL (Secure Socket Layer) certificate provides security for websites to handle sensitive information adequately. More importantly, it lets your customers or visitors know your website is secure.
Have you noticed the little lock on top of your browser, right next to the URL on your favorite website? That indicates a website with added SSL security –it's as simple as that!
Why do I need an SSL certificate?
Beyond the obvious reason - to get rid of the trust killing "Not Secure" mark – how much do you spend a year on anti-virus for your personal computer? Why do you need it?
It's no different when it comes to the security of your website.
Imagine if all of your customers' data was stolen. How badly would this impact your reputation and business? More importantly, how do you stop it from happening in the first place?
Your customers and visitors trust and depend on you to provide a secure platform for them to browse securely on. To sum it up, here are 6 benefits of SSL encryption:
Customer Reassurance – Having an SSL certificate indicates that your website is a secure place to visit. Without the designation, your customers are likely to exit your website and seek out a competitor.
Credit Card and Personal Information Security – An SSL certificate will help customers trust your website and make them feel comfortable submitting their personal billing information. As a bonus, adding an SSL certificate will take you one step closer to becoming PCI (Payment Card Industry) compliant.
Google mandatory requirement – Google has made SSL installation mandatory and flags websites without it. Think about how many users use Google on a daily basis, or how many users search Google every second (63,000!) - put simply, Google compliance is very important.
Peace of Mind – It's simply nice to know you've done everything you can to protect your site and have provided your customers with a safe browsing environment.
SEO Ranking – Believe it or not, Google will rank your site over unsecured competition in search results.
It's Inexpensive – SSL certificates are typically not expensive and can be purchased from any third party provider with your web hosting service. Additionally, it's able to seamlessly install on your website and renews every year. You can also purchase an SSL certificate directly from Hostway here: https://hostway.com/products-services-2/ssl-encryption/. Our helpful 24/7 technical support team will even help you install it!
Think about how safe you would feel browsing secured websites – it's time your customers feel that too and that you show them you care.
Getting set up is as simple as following a few steps to complete the process. Feel free to request a consultation with one of our security specialists.
One last tip – It's important to understand the difference between the varieties of SSL certificates available. Make sure they meet your unique needs and are aligned with your business profile. If you're having trouble figuring this out, our Sales team will be more than happy to help you!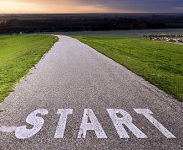 Founding your own small business is unlike any other job you may take on. It's a pathway to a totally different lifestyle – so much so that you'll have to ask yourself whether you're ready for a complete commitment to the success of your business. If you're in a relationship, it's just as important that you ask your partner whether he or she is completely committed.
As the CoE – Chief of Everything – of your small business, you'll have less time for your personal life. You may put yourself in the position of using much of what you own as collateral to raise money for the business. If those sacrifices don't sound too harrowing, consider these advantages and disadvantages of owning your own business.
Pros:
Windfall: You could make much more money that working for someone else.
Autonomy: Be your own boss, and make all the decisions crucial to your own success.
Influence: Hire other people to help – chip in to the local economy.
Security: No one can fire you.
Discovery: Put your own ideas into practice, and see what works and what doesn't.
Oversight: Control every aspect of the business.
Experience: Learn about every aspect of a business and gain knowledge in a variety of disciplines.
Contact: Work directly with your customers, and see what they need first-hand.
Self-Belief: Take personal satisfaction of creating and running a successful business on your own.
Interest: Work in a field or area that you really enjoy, or that compels you to continue working.
Long-term: Build real retirement value – for example, by selling the business when you retire.
Establishment: Put down roots in a community; provide a sense of belonging and stability.
Cons:
Investment: You may have to take a large financial risk.
Devotion: You'll likely have to work long hours and may have fewer opportunities to take vacations.
Minutiae: Much time could be eaten by the details of running a business, not those things you enjoy.
Inconsistency: Your income may not be steady; there may be times when very little is coming in at all.
Strain: You may have to undertake unpleasant tasks, like firing someone or refusing to hire a friend.
Learning: You may need to learn new disciplines, like filing and bookkeeping, inventory control, production planning, advertising and promotion, market research and general management.
Considering doing all this from your home office? This comes with distinct pros and cons as well:
Pros:
Your startup and operating costs will be lower than if you were renting space and paying utilities.
No commute; live anywhere unless your business hinges on your location.
Your schedule can be more flexible if business can be conducted outside weekday business hours.
Cons:
You're vulnerable to interruptions from family members, neighbors and door-to-door salespeople.
You may have trouble attracting qualified employees, and may be less accessible to suppliers.
You may run out of space at home if your business grows.
With all these ideas in mind, make an informed decision on whether or not you're ready to take the plunge into business ownership.
--
Exclusive for you - get your new business off on the right foot with our brand new Managed WordPress solution - we're offering Month #1 for completely free (meaning we won't charge your credit card until 30 days).
We'll also migrate your website (or multiple websites!) from your current hosting provider to the new solution for absolutely, 100% free – taking care of the end-to-end migration process for you.

Click the graphic below to learn more:


We're excited to announce the launch of our new Enterprise Solutions focused brand, Ntirety. This new brand will be focused exclusively on the needs of our Enterprise clients and delivering secure, compliant, and managed multi-cloud and hybrid services. We are equally passionate about serving the needs of our Small Business customers, just as we have for the past 20+ years and will continue to do so under the Hostway brand.
Our goal is to make it easier for both our Small Business and Enterprise customers to find the products, content, and information that is relevant to them. Our Enterprise customers will see their invoices, management portal, and all other branding change to Ntirety, and our Small Business customers will see a greater emphasis placed on Small Business services on the Hostway website.

Here is a quick overview of which services will be covered by each brand:


For More Information on the Ntirety Announcement:
Official Press Release: Introducing Ntirety
A Message From Ntirety CEO, Emil Sayegh
Visit Ntirety.com

Hostway is pleased to announce being officially selected as one of the winners in the Canada's Top Small & Medium Employer category for 2019! Hostway is proud to add the selection as one of Canada's Top Small & Medium Employer to the other awards already achieved this year.
The Canada's Top 100 Employers project is a national competition to determine which employers lead their industries in offering exceptional workplaces for their employees. It recognizes small and medium-sized employers across Canada that excel in various categories, such as benefits, culture, recognition, diversity, business milestones, and other aspects, that make a business outstanding to work for. Winning organizations are showcased in an annual magazine special, published this year in The Globe and Mail on April 12, 2019.
Applicants for the award were evaluated by editors of Canada's Top Small & Medium Employers using the same eight criteria as Canada's Top 100 Employers competition:
Physical Workplace
Work Atmosphere & Social
Health, Financial & Family Benefits
Vacation & Time Off
Employee Communications
Performance Management
Training & Skills Development
Community Involvement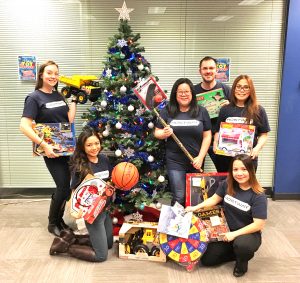 Senior HR Generalist Yui Nonoyama says that Hostway initiatives highlighted as part of the winning submission include Fun Fridays, where employees compete with themed costumes and workspace decorations; quarterly Hostie Awards and milestones recognitions; training and development, such as AWS certification training and bonus programs; and community service initiatives, like blood drives and annual toy drives. Team members can also find ways to reenergize with the onsite, multipurpose Zen room, an employee lounge with games, weekly team lunches, and access to a fully equipped, shared-use fitness facility.
Meeting the standards necessary to be recognized is familiar to the Hostway team, both in offices today and from past competitions. Hostway (pre-merger) was recognized in the Small & Medium Employer category in 2017 and is proud to be honored for a second time. HOSTING has also previously been honored pre-merger as one of the Top 50 Best Medium-Sized Best Places to Work in the 6th Annual Glassdoor Employees' Choice Awards.
With all the achievements made over the last few years, the Hostway HR team felt amply prepared to apply to a Canada's Top Small & Medium Employer award.
"We are constantly striving to improve our work culture and enable our people to be their best," said Natasha Gordon, Senior Director of Human Resources for Hostway. "We focus on creating a collaborative environment that fosters innovation and growth. This award is a reflection of the great people we have working for Hostway across all locations that make up the industry's best team."
Ready to join an award-winning team? Hostway offices in Canada and across the world are always looking to talented people just like you! Check out our current job listings, which are updated daily.
Gartner predicts that "hybrid cloud is the foundation of digital business." Further, they estimate that spend in the hybrid cloud market will reach $209 billion in 2019, growing to $317 billion by 2022. We decided to merge Hostway and Hosting to capitalize on this exact trend. This merger represents an opportunity for a "re-founding" moment for both Hostway and Hosting with opportunities to reach the mission our companies embarked on 20 years ago.  We wanted to create a combined company that offers complex managed cloud solutions spanning the entire lifecycle of customers' digital transformation with the highest reputation for security and customer experience.
It is said that the journey is sometimes more rewarding than the destination. The process of merging two companies towards a unified vision proves this every day. Together, Hostway and Hosting are forging a new history, driven by customer needs of building something unique. I am thrilled about this new future and all the benefits it will yield for customers, partners, and employees alike.
Expansion Meets Shifting Needs
Modern technology needs are rarely (if ever) met by just one service or another—it's a complex mix of solutions. Rising to the forefront of this industry shift towards hybrid, Hostway and Hosting merged at the end of 2018 to create one of the largest managed cloud services platforms in the world. Our merged company is now an industry leader in building and managing complex cloud environments with highly available and secure solutions that span public and private cloud. Our unmatched portfolio features a multitude of managed options, including private cloud, VMware, AWS, Azure, and hybrid cloud solutions with a full suite of security, compliance, database management, DevOps, and business intelligence services. Hostway now stands out as a global powerhouse with 14 state-of-the-art data centers around the world.
Customer Needs Are Shifting
The combination of Hostway and Hosting creates a leading independent platform positioned to thrive in a rapidly consolidating market. To understand all the benefits the merger brings, it's important to understand the IT environment that businesses work in today. It's predicted that that 83% of enterprise workloads will be in the cloud by 2020, and while the public cloud approach used to be considered the natural answer for outgrowing old IT methods, public cloud alone is proving to be an incomplete solution. Concerns of cost, compliance, and security are driving the prevalence of more hybrid, custom, and multi-cloud options. As noted by 451 Research, "Using both public and private infrastructure…[is] the endgame for most organizations today. This approach avoids vendor lock-in and enables enterprises to leverage the best attributes of each platform."
Setting a Strong Foundation
Our expectations for the integration of these companies are constantly being surpassed. We are making excellent progress thanks to the hard work and amazing professionalism of our teams. In a very short period of time we have seamlessly merged our operations, systems, and teams, all united in our goals of providing a great customer experience. We've also delivered growth of available services to customers, as well as increased career growth opportunities for team members.
In February, we held our first integrated Sales Kickoff in Denver, bringing together our entire global sales team under one roof to meet and learn about our new portfolio of service, partnerships, and clients. Joining in these many conversations reminded me again just how complex IT management has become and why the time was right to come together and join forces. Bringing our teams, services, and collective knowledge together is more important now than ever to bring the most innovative and comprehensive solutions to our customers.
Strong Team Alignment 
Technology and systems are certainly important during mergers, but it's the people behind the merger that complete the winning formula. From day one of the merger, there was a lot to do in so many areas. Suddenly, we became a much larger global company with expanded services, growing teams, new  locations, and more. After visits to new offices around the world, I witnessed firsthand the alignment between both companies' core values, commitment to integrity, and customer focus. As a combined team, our employees immediately engaged and collaborated to solve customer problems. Watching our teams work together, you would think these companies have been merged for years, not just a few weeks!
These early integration efforts are already being recognized by industry-leading reviews and reports. In the first two months of Q1, Hostway was named one of the major key players of the most recent Market Report by Global Managed Servers Market Forecast (2019-2023) and one of the Top Colocation Services Vendors by FeaturedCustomers, in addition to receiving the Best Managed Hosting Service Award by HostReview.
Benefits to Customers
Our customers are the true focus of all of this work. The expanded portfolio addresses core businesses challenges and provides comprehensive solutions for our customer needs. We have already begun serving customers with our expanded service set, and our internal account teams are proactively assessing and identifying ways to optimize and improve outcomes for current customers. Hostway is excited to fully complete the merger in the weeks to come, unveiling changes across our website and our products.
As a quick example of the increase in services available to customers, now Hosting customers can have a global presence by accessing Hostway's international Data Centers in Germany, Korea, and Canada. Additionally, Hosting customers now have access to the full suite of business-class Office 365 services from Hostway, as well as in the in-depth Azure expertise that the Hostway team brings. Similarly, Hostway customers can now benefit from Hosting's experience and technical processes for database management brought by the Ntirety Hosting team, in depth AWS Management and automation, and Compliance as Service offerings. Hosting's previous focus on Monitoring Insights, DevOps automation, management, and protection across services will be a valuable addition to Hostway's customer solutions.
We are also proud to have introduced the industry's first Guidance Level Agreements (GLAs), providing organizations that work with Hostway's with actionable recommendations, providing benefits for all of our customers. These in-depth recommendations are delivered quarterly and tied to customer's individual business achievement.
Collectively, the organization is now better positioned to address the entirety of enterprise IT challenges and deliver more comprehensive solutions to risk, cost, and agility in the ever-changing technology landscape.
We're Coming to You
Combining our expertise, our united teams are traveling to meet with IT professionals and hear about their challenges at executive dinners and TechTalks in cities across the country. Some of our best and brightest will be listening and learning about these industry issues to understand and share how our combined company can help these growing customer needs. Those interested but unable to make of our in-person events are encouraged to join us during our series of webinars. We are excited to connect and share our expanded knowledge sets.
As Hostway continues to unite, customers and partners will get the benefit of more than twice the experience, technical expertise, and services to help every step of the way on the journey to hybrid cloud environments, with greater protection against ever-emerging threats. Learn about what twice the benefits means for your organization in our X2 webinar series. With similar company cultures and determination, we are successfully building a stronger team that will build careers within our organization and reinforce our mission towards personal, company, and customer success. The Executive Team, along with the entire company, are thrilled to be on the front lines of this exciting evolution and look forward to further accelerate our customer's success in the coming months.
What do you think of this merger? How do you think it will benefit customers?  Please let us know your comments by emailing esayegh@hostway.com.